Day Two - August 15, 2001
Big Sur to Guernville on the Russian River
---
Got up early - had a great sleep, broke camp, packed up the bike and headed out. I stopped in Big Sur Village at a place called Big Sur Bakery for some coffee with a fried egg, onions & tomato bagel sandwich. Excellent. I sat for a while on the sunny patio looking over the beautiful green valley. It's been probably 15 years since I've been through Big Sur. Last year I went straight up to Laguna Seca Raceway via Highway 5. Not exactly the same scenery as I'm enjoying now. I'd love to come back here and spend some time, but not this time. I paid the bill and got on the bike for the day's ride.
Riding out of Big Sur first thing in the morning is amazing. The coastal clouds were pouring over the mountain to my west like vapor. It was a bright sunny morning, for a while. As I traveled North through "Andrew Molera State Park" (which is just South of Carmel Highlands and not pictured on the map) It got cold. Cold and wet. Heavy drizzle greeted me as I traveled through The Carmel Highlands, Monterey, Castroville & Santa Cruz.
As I approached Point Año Nuevo, I passed a fellow motor cyclist on an old, I'm guessing, early 70's BMW. He had rigged up a pair of wicker baskets as saddlebags and was wearing only a light windbreaker over his T-shirt. As I passed him I could see that his windbreaker was full of air. He must have been freezing because I was wearing lots of warm stuff and I was cold.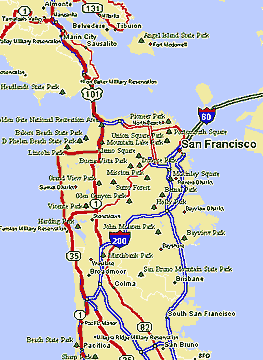 When I stopped in Half Moon Bay for gas and to make a couple of phone calls, he also pulled in for gas. He was freezing. We talked for a while. He told me that he was headed for Seattle, but couldn't take the cold along the coast anymore. He said that he had a large wool sweater but wasn't wearing it because he didn't think it would fit under his windbreaker. I suggested he tries, and maybe travel inland where it would be much warmer instead of along the coast. He had never taken a motorcycle on a cross-country trip before and was hungry for advice. His face shield was old and scratched so I offered him some Plexis, a really good plastic polish, so he could see better. We rode together for a while and I eventually passed and lost sight of him. He caught up to me in Pacificia and said, "Thanks for the advice. It's much easier to take the cold with my sweater on."
We stayed pretty close until we got to San Francisco where we got separated in traffic and I eventually lost sight of him, but I'm pretty sure that he took my advice and began his travels inland.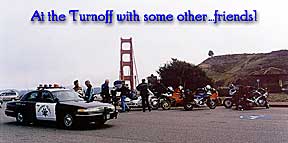 I crossed the Golden Gate Bridge, the top of which was shrouded in fog, and pulled over at the North viewpoint. It was a zoo. Tourists everywhere. Huge busses, drivers blowing their horns to get their passengers back on board. I got out of there as fast as I could.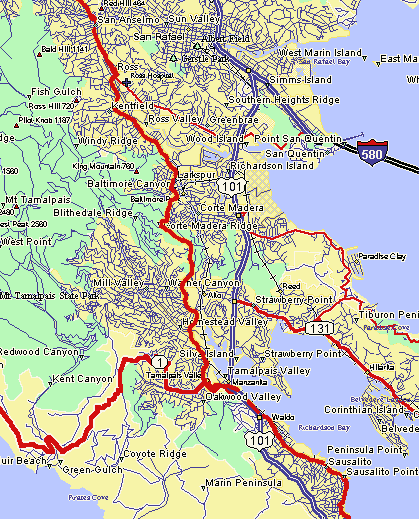 Up the 101 to Sausilito. At this point I have to make a choice. I could continue up the coast through Stinson Beach and Point Ryes, or take another road that I hadn't ever considered taking that goes north, but further inland. It was so cold that I made the decision to travel inland, at least for now. The road, which is not identified very well on the AAA (Automobile Association of America) maps that I was carrying very well, runs through Corté Madera, Larkspur, Kentfield, San Anselmo & Fairfax - all just to the East of where I was, Mill Valley. These towns are so close together that's it's hard to know where one stops and another begins. Lots of traffic and cops - lots of cops. I was hoping that the route I had chosen a while back would not all be like this. It was getting to be lunchtime so I decided to stop in San Anselmo for lunch. After a little searching and asking locals where a good place to eat was, I found a great little Mexican/Southwest cuisine place called "Jane's Taco". The Fish tacos are excellent.
After a couple of beers and a good lunch, I was ready to get out of these little up scale crowded towns, so out to the FJ and on the road we go. Following a small black line on my map, I wound my way through the countryside on Francis Drake Road. Through the Samuel P. Taylor State Park to Platform Bridge Road, to Point Reyes Petaluma Road, to Wilson Hill Road, to Marshall Petaluma Road to...
an unnamed road (I couldn't find a name for this road anywhere!), to Chileno Valley Road, to Tomales Road, to Valley Ford Road, to...
to Bloomfield Road, to Pleasant Hill Road which ultimately got me to State Route 12 (Bodega Highway) where it intersected Highway 116 in Sebastopol. There was nothing special about that route other than it was a challenge to navigate, and it was nice and warm. The countryside changed from Coastal to oak savannah with some cattle grazing and small farms scattered about. All things considered, it was quite nice. Rolling hills and well paved roads with long sweeping corners. Lots of fun.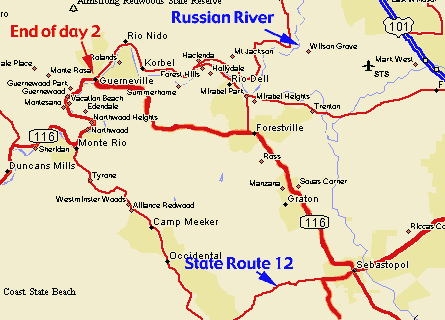 From Sebastopol, I took Highway 116 North to where it met the Russian River in Guerneville. From there the highway goes west towards the coast. It was quite warm and the river looked inviting, so I started looking for a place to camp for the night. There were no public camping places that I could find because, it seems, that all the land around the river is privately owned. I was able, however, to find a private camping area. It was all right - lots of kids running around and pretty noisy. The campsite I found was pretty small but fairly private with lots of trees and shrubs around, a little grass to set up my tent on and it was overlooking the river about 100 yards away. There was a large array of flood lamps lighting up the beach beneath me that were left on all night, so no stars tonight. I took a little walk around town to take in some sights. A nice place Guerneville. A younger crowd - lots of bars and restaurants. I grabbed some food and beer at the local grocery store and headed back to camp.
After a little food and beer, I took another walk and my cell phone rang. It really surprised me because it wasn't who I was expecting. It was a friend of mine who was near my home and wanted me to guide him to our favorite sushi bar I had told him about. 500 miles away and I'm giving directions to something 5 minutes drive from my home. Go figure.
I headed back to camp, a couple more beers, for medicinal purposes only, and to bed. I planed to leave real early the next morning and head back out to the coast. I knew it would be cold, but I figured it had to be better that camping with all the noise, lights and people.
---
273 total miles traveled for day 2.