Day 3 - August 16, 2001
Russian River to Jeddiah Smith Redwood State Park
---
Day three got me up early. After a shower It was about by 8:00am.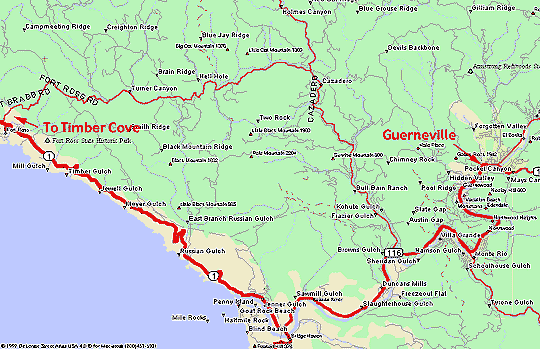 Driving the remaining Highway 116 to the coast was really nice. Coming around a corner I could see the fog bank rolling in from the coast. Turning north on Hwy 1, it was very foggy and damp. It was so foggy you couldn't see the coast, the mountains, or anything very far in front of you. Wiping the moisture from my shield every few minutes, I rode along hoping the fog would lift soon.
Last year I had the most amazing breakfast at a place called "The Timber Cove Inn". I thought I had joined the coast too far north to stop there and was really surprised when, just north of Fort Ross State Historic Park, out of the fog came "The Timber Cove Inn". Of course I stopped. As I walked up to the lodge, I noticed 3 other motorcycles in the parking lot. They were just coming out after their breakfast. We talked for a few minutes and I found out that they were from Florida and were on their way to Vancouver, BC. A long way from home. I went on in to the lodge for a great breakfast of blueberry pancakes, fresh fruit and coffee.
After about an hour the fog lifted some so I got back on the bike and started north again.
After passing Salt Point State Park, the sun actually came out. It was absolutely beautiful and stayed that way all the way up the coast. It was so beautiful I decided to stop at the Point Arena Light House for a little sight seeing.
After checking in at the office, I found out that a tour had just begun and was sent over to the lighthouse and up the 145 stairs to join the rest of the tour in the lamp house. The docent that was giving the talk delivered it as if she had been doing this for years, and probably had. She seemed bored. Every statistic about the lighthouse was firmly committed to memory. When her talk was complete, I started down the stairs and took the short tour of the museum, got on the FJ and headed out.
The good weather held all the way up the coast. Where the coast route turns inland towards Leggett (where Hwy 1 meets Hwy 101) it just got warmer and warmer. Wonderful. So I joined Hwy 101 and rode north towards the Humbolt Redwoods. Simply magnificent. No words can describe how beautiful it is here. As I rode through the incredible trees, I couldn't believe that there are some among us who think this is forest is just some sort of resource that should be harvested. Unthinkable to me to even entertain the thought of cutting one of these majestic trees down so someone can tear off a piece of paper towel, wipe their hands, and throw it away.
I rode through coastal canyons, alternately going from late afternoon sun, to low clouds, to rolling fog. Crescent City greeted me with the sun shining beautifully off the coast. I was getting a little low of fuel, so I decided to stop for gas and a couple of phone calls.
After fueling up, I took a look at my map and decided to head up Hwy 199 towards Grants Pass, Oregon. I passed Jeddiah Smith Redwood State Park on my way up hwy199. A short time later I stopped at a little market a few miles up the road for a snack and to take another look at my map. The next place I saw to camp was quite a ways off so I decided to turn around and go back to Jeddiah Smith Redwood Park to see if there was any camping available. The park was full except for the walk/bike in campsites way at the other end of the park. "Well, I'm on a bike" I joked to the ranger at the entrance station, fully expecting to be turned away. She smiled and said, "Well, yes you are. Go on down to these campsites, pointing at a map of the park, and see if you want to stay in one tonight. They are a little primitive." I cruised on down and found exactly what I was looking for, a nice place away from all the RV's, generators, kids and cars - a quiet place along the river that runs through the park with nobody else around, or even in site. I picked a place to camp, went back to the entrance station, paid my fees and rode up to the little store I had stopped in earlier for some beer and goodies. Back at the campsite, I drank a few of those beers and looked at the map to get a handle on where I wanted to go tomorrow. I was close enough to the coast that I could go further north up coast highway, or I could head inland towards Grants Pass. I'm just not sure yet.
I'll figure it out in the morning.
---
End of day 3 Total miles 353