Day 7 - August 20, 2001
Lake Almanor to Lake Tahoe
---
I woke up to a beautiful sunrise over Lake Almanor. Sarah had to work today (Monday) so everybody was up early. Sarah's other friend left at about 5:30 am because he had to be in Sacramento by 12:00 noon. Sarah and I got up a little later. First Sarah took a shower, then I. She left for work at about 7:30 am, gave me a big hug and said goodbye. She got in her car and left. It was kinda hard to say good bye this way, but life goes on and I'm on vacation, remember!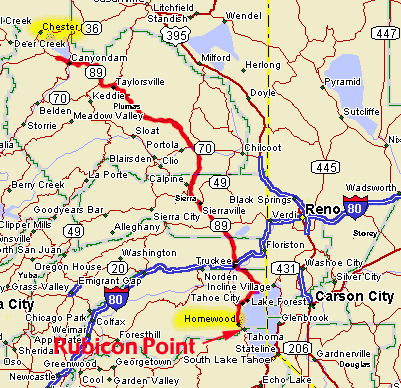 I packed up my stuff and began my ride south - around the lake, back through Chester and south on Hwy 89 towards Lake Tahoe. On the way, I went through the town of Almanor, which was just off Hwy 89, and passed one of Eddie's and My favorite places to eat so I stopped...........to eat! Coffee. Coffee. Ahh. Coffee! The basted eggs and hash browns weren't bad either. Continuing south along the lake, I wanted to check out our favorite camping spot and boat ramp. PG&E used to own the land, but had to sell them off thanks to the "energy crisis". I was curious if the new owner had changed anything. Every thing was pretty much the same, except the lake which, like I said before, was really low.
So as I drive over the dam that holds Lake Almanor, I wave good bye. South on Hwy 89 which winds through some beautiful country through Indian Valley to where Hwy 89 joins Hwy 70 and the Feather River - towards Quincy to Blairsdan where Hwy 70 and 89 split. We continue south on Hwy 89 towards Truckee.
I found a nice little loop, or side road that would get me back to Hwy 89, but after going through some beautiful forests and lakes. Up the mountain and into Turckee. Last year, I remember, they were repaving Hwy 89 and I had to ride through about 15 miles of oil covered road. What a mess! However, this year the new road was very nice, and again, there we're very few cars to contend with. Following Hwy 89 along the Truckee River, I saw hundreds of people floating down the river on rafts of all kinds - people riding their bicycles along the bike path. Just another beautiful day in Tahoe! turned south and went continued along Lake Tahoe towards my destination, Rubicon Bay, but the closer I got the smokier it got. I had heard about all of the fires burning all around me during this trip, but hadn't seen any evidence until now. The smoke was quite thick when I arrived at James' house. From his house you normally can see the entire lake and all the mountains around it, but because of all the smoke you couldn't even see the lake. Smoke was pouring over the ridge to the west which looked like the fire was just on the other side of the ridge, but it was actually much further to the south and 60 to 70 miles to the west. That's how big the fire was!
James greeted me as I was taking off my helmet and wasted no time showing me his brand new motorcycle. A Ducati ST4s. Basically a sport touring bike with a slightly tuned down Ducati 996 race engine and suspension. A really beautiful bike. James, being a hard core Ducati/big twin engine guy, had been wanting a bike like this for years. We talked and compared our bikes for a while then James broke out his new saddle bags and luggage carrier stuff. Well, we immediately started to mount all the mounting brackets. But the most important topic of conversation was ...where are we going to eat! We decided to go out for Mexican food, which would include our favorite beverage - The Margarita!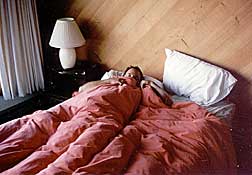 Well, we had a great time and drank way too much. Joel, James' assistant kindly agreed to be our designated driver home. Thanks Joel. We arrived back at the house in one piece and after a little more conversation, went to bed. All of us were pretty tired after the day's events.
So upstairs to the guest room and my first nights sleep in a real bed since my trip began.
---
End of Day 7
179 miles