Day 9 - August 22, 2001
Lee Vining to Home
---
The morning was cold. Probably around 40°. I got up, struck camp, loaded up the FJ for our final run home. I ate a couple of Oreos (very healthy) and said goodbye to Alpine meadows, one of my long time favorite places to come.
Tioga Road was still partly closed from that storm earlier, but the CHP was leading cars up and around the landslide that had closed one lane of the highway.
I headed out of the valley towards Lee Vining and Hwy. 395 to get gas. As I left Lee Vining, I waved good bye to Mono Lake as I ride south towards home. Past June Lake and Mammoth - down the grade to Bishop and a stop at an old friend's photo shop to say hello.
John was very surprised to see me. We talked and laughed for at least an hour then walked down to the bakery for some wonderful fresh bagels. Back at the shop and more laughs over coffee and bagels. Remembrances of times past - Producers Workshop, etc. We hugged goodbye - promising to keep in touch more often.
Firing up my trusty FJ, I headed out of town. Next stop, Lone Pine and fuel. After that the long drive through the desert and home.
I didn't stop in Mojave for gas. I figured I had enough to easily make Acton, or maybe even the San Fernando Valley, which turned out to be the case. I stopped for gas at the station just before hoping on Hwy. 118 for the last 10 miles of the trip.
Pulling off the Freeway at Rocky Peak, down Santa Susanna Pass Road to Box Canyon and home. It felt great to pull up the driveway and home. Being greeted by an old friend I hadn't seen in 15 years. Bob E. Not to mention Oscar, Pepper, Margie and Skylar. Oh yea - and Eddie!! It's good to be home.
Now for a shower. In my own bathroom, some clean clothes and then we all were off to our favorite restaurant - El Patio for some good food, margaritas and some more laughs.
My vacation wasn't over just because I got home.
Life is good!
---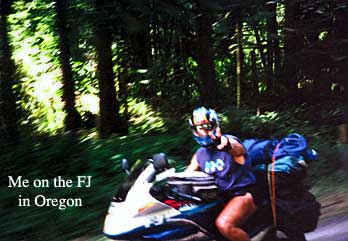 End of Day 9 -258 miles
End of Trip
Total miles - about 2010